Cell Incubators
Cell incubators are used to grow cell cultures in environments with precisely controlled temperature, humidity, and CO2 levels to aid in the study of diseases and the effects of drug treatments.
Memmert Cell Incubators for laboratories
Memmert cell incubators deliver a high level of performance for reliable control for cell and tissue growth. The control system is battery-buffered to ensure control even during a power failure. Ideal hygiene is a given too: rounded edges enable easy and thorough cleaning. Memmert cell incubators are made from stainless steel, the ideal material for cell incubators due to their resistance to corrosion and the interior can be easily sterilized within 60 minutes at 180 °C.
Model Guide
---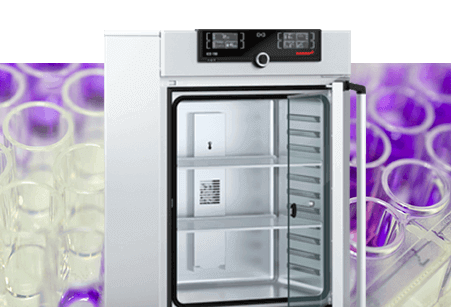 ICO
CO2 Incubator
Active RH control, short recovery times, six sided heating and interior heated glass door provides perfect climate for cell and tissue cultures. Battery back up for data logging and C02 control functional even during a power failure.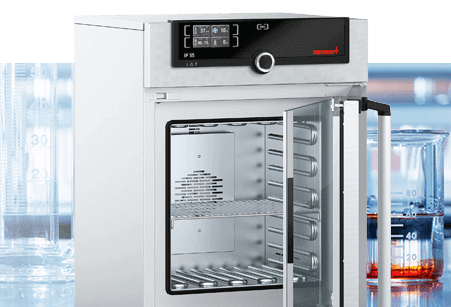 IF
Forced Circulation Incubator
In working with a fully loaded chamber, forced air circulation maybe required for uniform temperature and air distribution. Interior rear wall fan motor can be precisely adjusted in 10% increments, or shut off completely to avoid drying out of samples.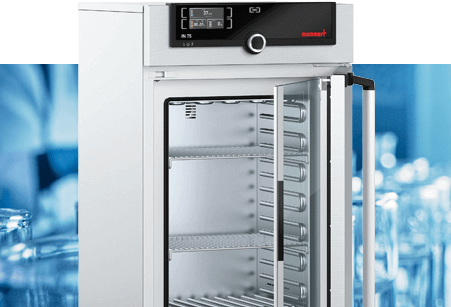 IN
Natural Convection Incubator
Memmert incubator provides perfect combination of all-round surface heating and precise temperature control system safe for research, pharmaceuticals, medicine, and food chemistry.
Single

Display

vs

Twin

Display

Our products are equipped with AtmoCONTROL technology that has programming functions depending on which display you select:

SingleDISPLAY and TwinDISPLAY
Manage and organize data
Save log files in several formats
Monitor up to 32 devices online
Automatic alarms sent to your email when conditions are out of spec

Additional features with TwinDISPLAY
Archive of ramps and program sequences
Real-time view of program sequences
Loops can be inserted within a temperature control program at any place
Download and manage programs via Ethernet or USB
Programmable

Lab Equipment

Our products are equipped with AtmoCONTROL technology that has programming functions depending on which display you select:

SingleDISPLAY and TwinDISPLAY
Manage and organize data
Save log files in several formats
Monitor up to 32 devices online
Automatic alarms sent to your email when conditions are out of spec

Additional features with TwinDISPLAY
Archive of ramps and program sequences
Real-time view of program sequences
Loops can be inserted within a temperature control program at any place
Download and manage programs via Ethernet or USB
Contact Us
262-594-3941