Climate Chambers
Climate chambers are used to regulate temperature, humidity, air composition (CO2 or O2), or light intensity to test the effects on products like electronics whose performance can be extremely affected by the temperature.
Laboratory Climate Chambers FROM Memmert
As a leading pioneer in the world of temperature control and environmental simulation, Memmert is committed to providing cutting-edge solutions for scientific research, industrial applications and academic endeavors. From stability testing to accelerated aging, our climate chambers ensure optimal conditions for the cultivation, storage and testing of your invaluable samples.
Testing against environmental factors is important because the effects of temperature, humidity and other conditions can significantly impact the performance and functionality of different materials and products. Testing against environmental factors can also help to identify potential failure modes and improve the overall safety of materials and products. The unique environmental factors a climate chamber simulates vary based on the composition of the chamber.
Model Guide
---
CTC
Climate Test Chamber
Perfect climatic test chamber with combined humidity and temperature control, -42C to 190C without RH, and +10C up to +95C with RH.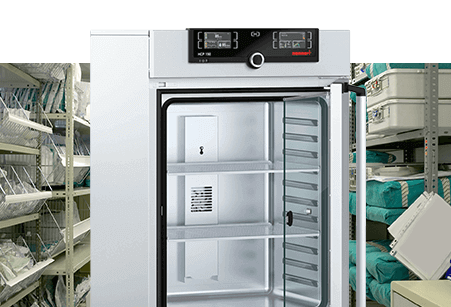 HCP
Humidity Test Chamber
Active humidity control creates a controlled environment for accelerated life tests and 85/85 tests.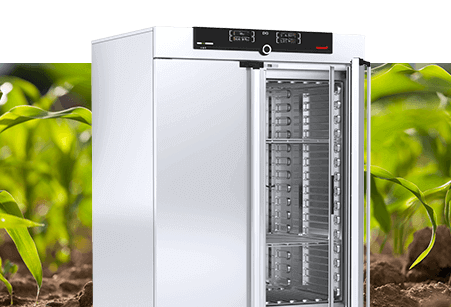 HPPeco
Constant Climate Chamber
Memmert's constant climate chamber is refrigerant-free, low maintenance, energy efficient. Stability testing according to ICH guidelines, perfect for pharma, cosmetics, food and materials stability studies.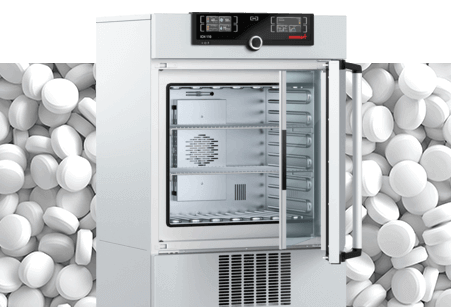 ICH
Climate Chamber
Perfect for stability testing, unique temperature and humidity control with an air jacket around sealed chamber, in accordance with ICH and GMP.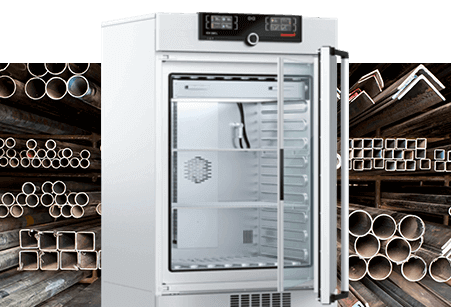 ICH C
Climate Chamber with CO2
Climate chamber with electronic CO2 control, adjustment range of 0-10%, perfect for long term carbondioxide tests.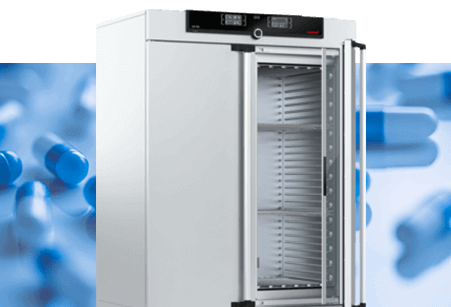 ICH L
Climate Chamber with Light
Climate chamber stability tests in accordance with ICH guidelines Q1A and Q1B. Daylight and UV light compliant with standard Illuminant D65.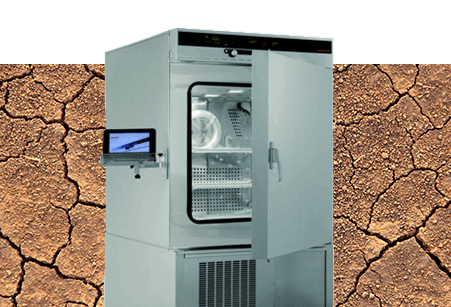 TTC
Temperature Test Chamber
Responsive, precise and energy saving temperature changes in the range from -42C to 190.
Single

Display

vs

Twin

Display

Our products are equipped with AtmoCONTROL technology that has programming functions depending on which display you select:

SingleDISPLAY and TwinDISPLAY
Manage and organize data
Save log files in several formats
Monitor up to 32 devices online
Automatic alarms sent to your email when conditions are out of spec

Additional features with TwinDISPLAY
Archive of ramps and program sequences
Real-time view of program sequences
Loops can be inserted within a temperature control program at any place
Download and manage programs via Ethernet or USB
Applications for Memmert Climate Chambers
Shelf Life Testing Climate Chambers:

Our purpose-built shelf life testing chambers ensure product quality and safety across industries and assist in accelerated aging tests to estimate shelf life accurately. Shelf life testing climate chambers are used to simulate temperature, humidity and light exposure for pharmaceuticals, food products and other perishables.
Plant Growth Climate Chambers: Tailored to meet the diverse needs of botanical research, plant growth chambers provide precise control over temperature, humidity and light, fostering the ideal environment for studying plant growth, development and behavior. Unlock insights into plant responses to different climatic conditions, optimize agricultural practices and conduct innovative experiments with Memmert's trusted plant growth chambers.
Pharmaceutical Stability Climate Chambers: Ensure pharmaceutical product integrity with our advanced stability chambers. Designed to facilitate compliance with industry regulations, pharmaceutical stability climate chambers are used for stability testing and assessing the effects of temperature, humidity and light on drug formulations. Achieve reliable results analyzing shelf life and efficacy under varying conditions with pharmaceutical stability climate chambers.
Accelerated Aging Climate Chambers:

Achieve precise results and obtain a comprehensive understanding of a product's shelf life and durability under real world conditions with our advanced accelerated aging climate chambers. Designed for compliance, safety and reliability, accelerated aging climate chambers assess temperature, humidity and light effects on products for improved innovation and development.
Biology Lab Climate Chambers: Our biology lab chambers are specialized environments designed to support various biological research applications. Biology lab climate chambers offer precise control over factors such as temperature, humidity and light, creating controlled conditions to conduct experiments and studies on living organisms.
Textile Stability Climate Chambers: Textile stability chambers test and assess the stability and durability of textile materials under controlled conditions. Textile stability climate chambers provide a simulated environment to study the effects of temperature, humidity and light exposure on a range of textiles.
Cosmetic Stability Climate Chambers: Cosmetic stability chambers evaluate the stability and shelf life of cosmetics and personal care products. Cosmetic chambers simulate controlled conditions and various environmental factors that may affect the quality, efficacy and safety of cosmetic formulations. Cosmetic stability testing is essential for product development, quality control and regulatory compliance. With cosmetic stability climate chambers, m

anufacturers can produce compliant cosmetics according to desired consistency and shelf life.
Histology Climate Chambers: Histology climate chambers create controlled environments to preserve tissue samples, histological slides and other biological materials for various histological procedures. By providing controlled temperature and humidity conditions, histology climate chambers contribute to accurate and reliable histological analysis to facilitate research and diagnosis across a wide range of disciplines.
Space Simulation Climate Chambers: Space simulation chambers recreate the vacuum, temperature and radiation conditions found in space to test and evaluate the performance of various items used in or exposed to outer space. Space simulation climate chambers play a crucial role in space exploration and research, enabling scientists and engineers to thoroughly test and validate spacecraft components and systems to ensure their safety and reliability.
Building Material Climate Chambers: Building material climate chambers simulate real world

conditions to which building materials are exposed during their lifespan. By subjecting materials to controlled environmental conditions, building material climate chambers identify weaknesses and enable engineers and manufacturers to make informed decisions to improve the safety and quality of construction materials.
Histopathology Climate Chambers:

Histopathology is the study of tissue samples to diagnose diseases and identify abnormalities at the cellular level. Histopathology climate chambers create controlled environments with specific temperature and humidity conditions to ensure the preservation and integrity of histopathological specimens throughout various stages of processing, facilitating disease diagnosis and medical research in various healthcare settings.
Digital Climate Chambers with Programmable Climate Control
Using our new AtmoCONTROL interface, users are allowed to drag and drop graphical symbols for the desired parameters to the input fields and change the values using a digital screen. Each climate chamber has a digital backward counter with a target time setting that is adjustable between 1 minute and 99 days 23 hours. Working alongside the Setpoint-Wait function, the process you program will not start until the set temperature is reached at all measuring points.
Contact us today to find a climate chamber to suit your needs.
Memmert Climate Chambers: Software & features
Memmert climate chambers have accessories and special options to suit your lab. We can adjust or add certain features including:
Entry Ports
Air pressure variations
Relative humidity capabilities
Illumination unit available
Additional reinforced stainless steel
Alternative lightboxes available
Additional reinforced stainless steel shelves
Heavy-duty appliances
Holder for water tank (standard for size 750 units)
Gas concentration variations (oxygen, carbon dioxide, nitrogen)
Central water supply with filter cartridges for connection to domestic water supply
Applications for climate chambers
Climate chambers are used in labs, factories, industrial settings and more for a variety of uses:
Pharmaceutical stability testing
Flight storage simulation
Breeding zebra fish
Breeding insects
Cosmetic stability testing
Altitude testing
Programmable

Lab Equipment

Our products are equipped with AtmoCONTROL technology that has programming functions depending on which display you select:

SingleDISPLAY and TwinDISPLAY
Manage and organize data
Save log files in several formats
Monitor up to 32 devices online
Automatic alarms sent to your email when conditions are out of spec

Additional features with TwinDISPLAY
Archive of ramps and program sequences
Real-time view of program sequences
Loops can be inserted within a temperature control program at any place
Download and manage programs via Ethernet or USB
Contact Us
262-594-3941