Climate Chambers
Memmert climate chambers allow you to regulate temperature, humidity, air composition (CO2 or O2), or light intensity. Our team is the leading distributor of Memmert in the United States and has the knowledge to hook you up with the perfect climate chamber for any project.
Model Guide
---
CTC
Climate Test Chamber
Perfect climatic test chamber with combined humidity and temperature control, -42C to 190C without RH, and +10C up to +95C with RH.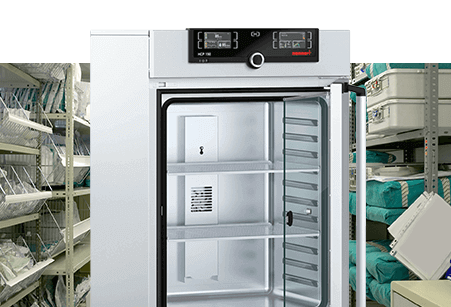 HCP
Humidity Test Chamber
Active humidity control creates a controlled environment for accelerated life tests and 85/85 tests.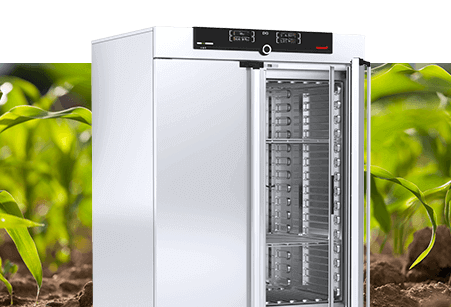 HPPeco
Constant Climate Chamber
Memmert's constant climate chamber is refrigerant-free, low maintenance, energy efficient. Stability testing according to ICH guidelines, perfect for pharma, cosmetics, food and materials stability studies.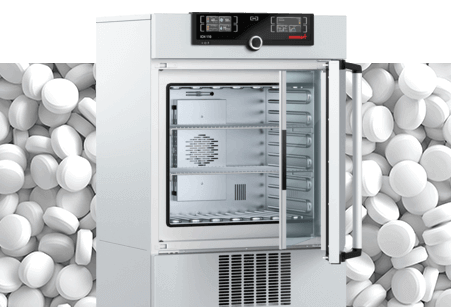 ICH
Climate Chamber
Perfect for stability testing, unique temperature and humidity control with an air jacket around sealed chamber, in accordance with ICH and GMP.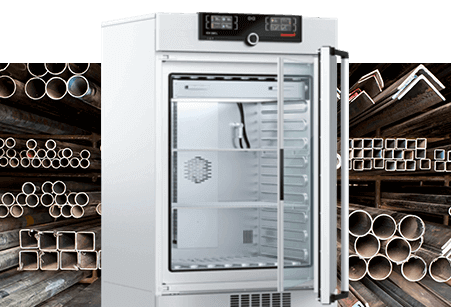 ICH C
Climate Chamber with CO2
Climate chamber with electronic CO2 control, adjustment range of 0-10%, perfect for long term carbondioxide tests.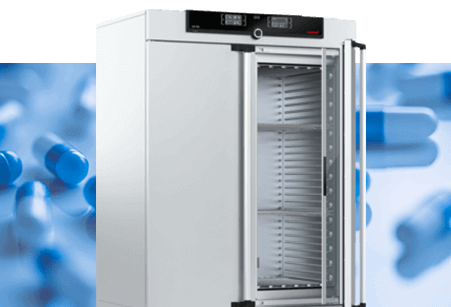 ICH L
Climate Chamber with Light
Climate chamber stability tests in accordance with ICH guidelines Q1A and Q1B. Daylight and UV light compliant with standard Illuminant D65.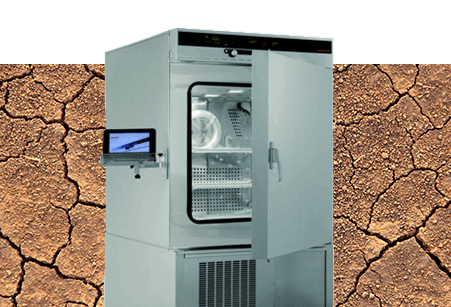 TTC
Temperature Test Chamber
Responsive, precise and energy saving temperature changes in the range from -42C to 190.
Single

Display

vs

Twin

Display

Our products are equipped with AtmoCONTROL technology that has programming functions depending on which display you select:

SingleDISPLAY and TwinDISPLAY
Manage and organize data
Save log files in several formats
Monitor up to 32 devices online
Automatic alarms sent to your email when conditions are out of spec

Additional features with TwinDISPLAY
Archive of ramps and program sequences
Real-time view of program sequences
Loops can be inserted within a temperature control program at any place
Download and manage programs via Ethernet or USB
Environmentally Friendly Climate Chambers with Memmert
At Memmert, every Climate Chamber has a climate defined by temperature and humidity. For heating, the chamber load is exposed to defined temperatures at atmospheric pressure within a climate chamber. In the case of cooling, on the other hand, the heat is extracted from the chamber load and released to the environment outside the climate chamber via the cooling system. With these features, our climate chambers are nearly maintenance-free. They are heated and cooled by one system, allowing for the development of them to be resource-saving and energy-efficient.
Laboratory Uses for Climate Chambers
Climate chambers, also known as environmental chambers, are essential tools in many laboratory settings. Our climate chambers create controlled environments for conducting experiments or testing the performance of products and materials under specific temperatures, humidity, and atmospheric conditions. The versatility of climate chambers makes them useful for a wide range of applications, including:
Controlling humidity: Humidity control is another critical aspect of climate chamber use. Our climate chambers are used to maintain desired levels of relative humidity, which can affect the growth of plants, the stability of pharmaceuticals, and the performance of electronics, among other things.
Accelerated aging: Climate chambers can be used to simulate long-term exposure to environmental stressors to evaluate product lifespan and determine the rate of degradation.
Biology studies: Climate chambers provide a controlled environment for studying the effects of temperature and humidity on the growth, development, and behavior of plants and animals.


Digital Climate Chambers with Programmable Climate Control
Using our new AtmoCONTROL interface, users are allowed to drag and drop graphical symbols for the desired parameters to the input fields and change the values using a digital screen. Each climate chamber has a digital backward counter with a target time setting that is adjustable between 1 minute and 99 days 23 hours. Working alongside the Setpoint-Wait function, the process you program will not start until the set temperature is reached at all measuring points.
Frequently Asked Questions About Climate Chambers
Why is it important to test against environmental factors?

Testing against environmental factors is important because the effects of temperature, humidity, and other environmental conditions can significantly impact the performance and functionality of materials and products. Testing against environmental factors can also help to identify potential failure modes and improve the overall safety of materials and products.

What environmental factors do climate chambers test against?

Climate chambers can be used to test against a wide range of environmental factors, including temperature, humidity, light, altitude, and other conditions. The specific environmental factors that a climate chamber is able to simulate depend on the capabilities of the chamber.

How do I choose the right climate chamber for my research needs?

There are several factors to consider when selecting a climate chamber for your research needs. These include the range and accuracy of temperature and humidity control, the size of the chamber, and the ability to simulate specific environmental conditions. It is also important to consider the budget and available space in the laboratory.
Have a different question? Contact us today to find a climate chamber to suit your needs.
Memmert Climate Chambers: Software & features
Memmert climate chambers have accessories and special options to suit your lab. We can adjust or add certain features including:
Entry Ports
Air pressure variations
Relative humidity capabilities
Illumination unit available
Additional reinforced stainless steel
Alternative lightboxes available
Additional reinforced stainless steel shelves
Heavy-duty appliances
Holder for water tank (standard for size 750 units)
Gas concentration variations (oxygen, carbon dioxide, nitrogen)
Central water supply with filter cartridges for connection to domestic water supply
Applications for climate chambers
Climate chambers are used in labs, factories, industrial settings and more for a variety of uses:
Pharmaceutical stability testing
Flight storage simulation
Breeding zebra fish
Breeding insects
Cosmetic stability testing
Altitude testing
Programmable

Lab Equipment

Our products are equipped with AtmoCONTROL technology that has programming functions depending on which display you select:

SingleDISPLAY and TwinDISPLAY
Manage and organize data
Save log files in several formats
Monitor up to 32 devices online
Automatic alarms sent to your email when conditions are out of spec

Additional features with TwinDISPLAY
Archive of ramps and program sequences
Real-time view of program sequences
Loops can be inserted within a temperature control program at any place
Download and manage programs via Ethernet or USB
Contact Us
262-594-3941