Compressor Cooled Incubators
Compressor-cooled incubators use CO2 (R744) instead of fluorine-based refrigerants, which are common in other types of cooled incubators, to offer fast and precise temperature changes.
Advantages of compressor-cooled incubators
The compressor-cooled incubator (ICP) has an air jacket temperature control system that ensures the working chamber of the incubator is perfectly sealed off from the outside. This ensures rapid and precise temperature control, no evaporator-related drying out of samples, no icing of the cooling unit, and no de-humidification of the inner chamber. This incubator is cooled with climate-friendly CO2. Thanks to the excellent thermodynamic properties of CO2 (R744) refrigerant and the finely adjusted control technology, the ICPeco-cooled incubator is both powerful and highly precise. Compressor-cooled incubators are long-lasting, low-maintenance machines delivering consistent & reliable results.
Model Guide
---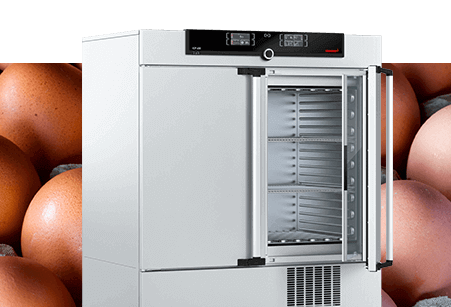 ICP
Compressor Cooled Incubator
Environment conscious, compressor cooled utilizing C02 refrigerant R744 incubator, perfect for rapid temperature changes and multiple setpoint ramps. Incubating, breeding, and storing the ICPeco is superior.
Single

Display

vs

Twin

Display

Our products are equipped with AtmoCONTROL technology that has programming functions depending on which display you select:

SingleDISPLAY and TwinDISPLAY
Manage and organize data
Save log files in several formats
Monitor up to 32 devices online
Automatic alarms sent to your email when conditions are out of spec

Additional features with TwinDISPLAY
Archive of ramps and program sequences
Real-time view of program sequences
Loops can be inserted within a temperature control program at any place
Download and manage programs via Ethernet or USB
Programmable

Lab Equipment

Our products are equipped with AtmoCONTROL technology that has programming functions depending on which display you select:

SingleDISPLAY and TwinDISPLAY
Manage and organize data
Save log files in several formats
Monitor up to 32 devices online
Automatic alarms sent to your email when conditions are out of spec

Additional features with TwinDISPLAY
Archive of ramps and program sequences
Real-time view of program sequences
Loops can be inserted within a temperature control program at any place
Download and manage programs via Ethernet or USB
Contact Us
262-594-3941