Purchase Specialized Equipment from Memmert
Memmert USA sells specialized Memmert lab equipment for niche uses. Our specialized equipment includes cooled vacuum ovens, pass-through ovens, paraffin ovens, histology chambers and space simulation chambers.
Model Guide
---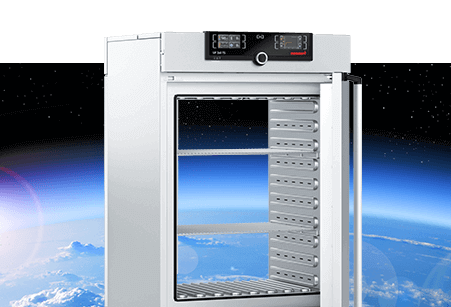 UFTS
Forced Circulation Pass-Through Oven
This oven is the perfect material lock between the grey room and the cleanroom.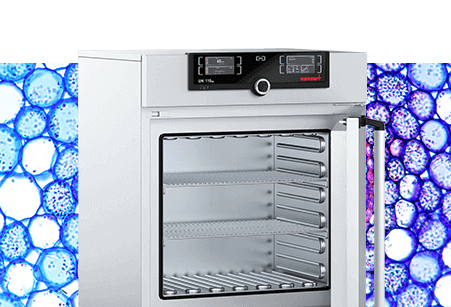 UNpa
Natural Convection Paraffin Oven
Designed for safety, high-precision temperature control of embedding medium like paraffin or wax.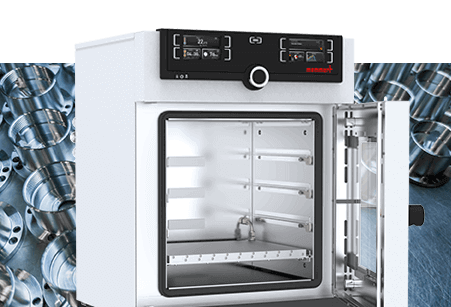 VOcool
Low Temperature Vacuum Oven
Low-temperature vacuum drying enables pharmaceutical or food labs to gently dry bacteria and starter cultures in the cooled vacuum oven VOcool.
Single

Display

vs

Twin

Display

Our products are equipped with AtmoCONTROL technology that has programming functions depending on which display you select:

SingleDISPLAY and TwinDISPLAY
Manage and organize data
Save log files in several formats
Monitor up to 32 devices online
Automatic alarms sent to your email when conditions are out of spec

Additional features with TwinDISPLAY
Archive of ramps and program sequences
Real-time view of program sequences
Loops can be inserted within a temperature control program at any place
Download and manage programs via Ethernet or USB
Frequently Asked Questions About Specialized Memmert Equipment
What advantages do pass-through ovens have over standard ovens?

Our pass-through ovens provide an excellent lock between cleanrooms & gray rooms making them perfect for electronics, pharmaceuticals, & many other industries.

What are the advantages of a vacuum oven?

Vacuum ovens effectively remove moisture, gas, & other chemicals while reducing the drying time by 70% & eliminating unnecessary energy consumption.

What do paraffin ovens offer?

Paraffin ovens provide high-precision uniform temperature distribution due to their near gas-tight chambers and all-round heating system. This provides a safe working environment without the danger of igniting any residue found within the oven.
Have a different question? Contact us today to find specialized equipment to suit your needs.
Memmert Specialized Equipment: Software & features
Memmert's specialized heating and drying ovens have customization and pricing options to suit your lab. Options vary depending on the make and model of the Memmert product. We have features and accessories including:
Entry ports
Air pressure variations
Relative humidity capabilities
Telescopic trays
Heavy-duty appliances
Heating and cooling temperature ranges
Stacking frame for stability
Gas concentration variations (oxygen, carbon dioxide, nitrogen)
Applications for lab equipment
Memmert equipment is used in labs, factories, commercial kitchens and more for a variety of uses:
Annealing
Dehydration
Decarboxylation
Degasification
Sterilization
Altitude testing
Programmable

Lab Equipment

Our products are equipped with AtmoCONTROL technology that has programming functions depending on which display you select:

SingleDISPLAY and TwinDISPLAY
Manage and organize data
Save log files in several formats
Monitor up to 32 devices online
Automatic alarms sent to your email when conditions are out of spec

Additional features with TwinDISPLAY
Archive of ramps and program sequences
Real-time view of program sequences
Loops can be inserted within a temperature control program at any place
Download and manage programs via Ethernet or USB
Contact Us
262-594-3941