Curing Ovens
Curing ovens are designed to increase the strength of a material by heating and curing the finish to a material's surface. The curing process involves a chemical reaction that irreversibly changes a paint, polymer, or adhesive from a liquid to a solid.
Model Guide
---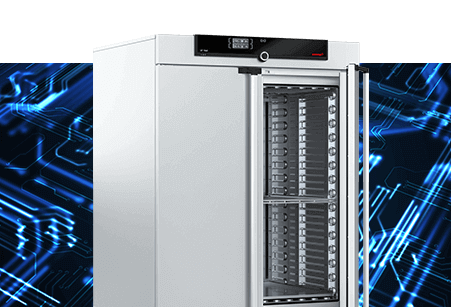 UF
Forced Air Convection Oven
Forced Air Circulation for excellent temperature uniformity via interior rear wall fan motor, variable speed control in 10% increments, or shut off completely.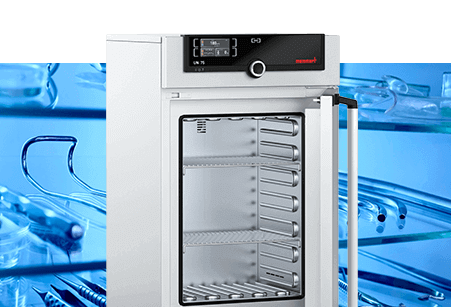 UN
Natural Convection Oven
Memmert's natural convection ovens are designed to reach temperatures up to 300°C efficient for complex processes with sensitive loads, or routine drying and sterilization tasks.
VO
Vacuum Oven
Vacuum drying ovens with direct heating within each adjustable thermoshelf provides optimum temperature distribution and fast vacuum drying capability.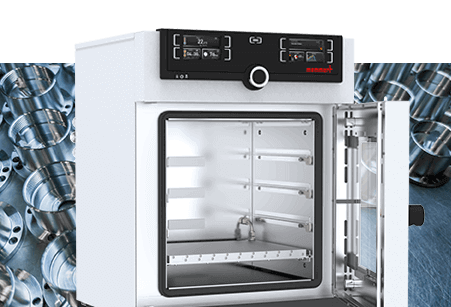 VOcool
Low Temperature Vacuum Oven
Low-temperature vacuum drying enables pharmaceutical or food labs to gently dry bacteria and starter cultures in the cooled vacuum oven VOcool.
Single

Display

vs

Twin

Display

Our products are equipped with AtmoCONTROL technology that has programming functions depending on which display you select:

SingleDISPLAY and TwinDISPLAY
Manage and organize data
Save log files in several formats
Monitor up to 32 devices online
Automatic alarms sent to your email when conditions are out of spec

Additional features with TwinDISPLAY
Archive of ramps and program sequences
Real-time view of program sequences
Loops can be inserted within a temperature control program at any place
Download and manage programs via Ethernet or USB
Types of Curing Ovens Available
Forced Circulation Curing Ovens
Memmert forced circulation curing ovens, are designed to meet your precise curing needs with efficiency and reliability. These ovens utilize a powerful circulation fan that ensures uniform heat distribution throughout the chamber, resulting in consistent curing results every time. With customizable temperature ranges and programmable controls, our forced circulation curing ovens provide exceptional versatility for a wide range of curing applications. The robust construction and advanced safety features guarantee durability and protection for both personnel and products. Trust in our industry-leading expertise and exceptional customer support to provide you with a top-quality curing oven solution that maximizes productivity and delivers impeccable curing performance. Invest in our forced circulation curing ovens and experience the pinnacle of precision, efficiency, and reliability for your curing processes.
Vacuum Curing Ovens
Memmert vacuum ovens for curing offer unparalleled precision and quality. Our vacuum ovens create a controlled environment by removing air and moisture, allowing for exceptional curing results. Designed with advanced technology, our vacuum curing ovens offer precise temperature and pressure controls, ensuring consistent and uniform curing throughout the chamber. With customizable programs and automated features, you can optimize your curing process for maximum efficiency and productivity.
Natural Convection Curing Ovens
Memmert natural convection curing ovens are designed to deliver outstanding curing results with simplicity and reliability. Harnessing the power of natural heat circulation, our ovens provide a cost-effective solution for your curing needs. The innovative design ensures even heat distribution throughout the chamber, guaranteeing consistent curing across all your products. With user-friendly controls and intuitive operation, our natural convection curing ovens are easy to use and require minimal maintenance. The durable construction and robust insulation retain heat efficiently, resulting in energy savings and reduced operating costs.
What Memmert Ovens can cure
Memmert ovens are capable of heating and curing a wide variety of materials including:
Not sure if a Memmert oven is right for you? Contact us today to answer any questions you may have.
Programmable

Lab Equipment

Our products are equipped with AtmoCONTROL technology that has programming functions depending on which display you select:

SingleDISPLAY and TwinDISPLAY
Manage and organize data
Save log files in several formats
Monitor up to 32 devices online
Automatic alarms sent to your email when conditions are out of spec

Additional features with TwinDISPLAY
Archive of ramps and program sequences
Real-time view of program sequences
Loops can be inserted within a temperature control program at any place
Download and manage programs via Ethernet or USB
Contact Us
262-594-3941