Pass-Through Ovens - UF TS
Memmert pass-through ovens feature an easy-to-clean interior, fast recovery times after opening the door and homogenous temperature distribution. Units with TwinDISPLAY have extra programming to control and manage feedback loops via Ethernet cable and alarms to signal when conditions are out of spec. Other features include:
Temperature range +250°C
Model sizes from 161-749 liters in volume
Forced air circulation
Contact Memmert USA to order a specialized pass-through oven.
Model Guide
---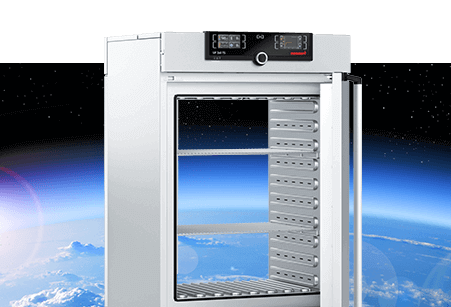 UFTS
Forced Circulation Pass-Through Oven
This oven is the perfect material lock between the grey room and the cleanroom.
Single

Display

vs

Twin

Display

Our products are equipped with AtmoCONTROL technology that has programming functions depending on which display you select:

SingleDISPLAY and TwinDISPLAY
Manage and organize data
Save log files in several formats
Monitor up to 32 devices online
Automatic alarms sent to your email when conditions are out of spec

Additional features with TwinDISPLAY
Archive of ramps and program sequences
Real-time view of program sequences
Loops can be inserted within a temperature control program at any place
Download and manage programs via Ethernet or USB
Advantages of Memmert Pass-through ovens
Memmert UF TS ovens offer specific advantages that can't be found with traditional ovens. With electronically controlled air exchange rates and TwinDISPLAY configuration, our ovens have everything to ensure minimal contamination when transporting samples and components. UF TS ovens are perfect for the medical, pharmaceutical and electronics industries. Some of the other benefits of Memmert pass-through ovens include:
Easy to use operation menu
Pre-heated fresh air to prevent fluctuations in temperature
Corrosion-resistant stainless steel working chamber and housing
Options for programming and documentation using interfaces, integrated data logger and AtmoCONTROL software
A 3-year worldwide guarantee
Any of our pass-through ovens can be modified to meet specific requirements for every customer or industry, contact our team of experts to learn more about how we can meet your needs.
Programmable

Lab Equipment

Our products are equipped with AtmoCONTROL technology that has programming functions depending on which display you select:

SingleDISPLAY and TwinDISPLAY
Manage and organize data
Save log files in several formats
Monitor up to 32 devices online
Automatic alarms sent to your email when conditions are out of spec

Additional features with TwinDISPLAY
Archive of ramps and program sequences
Real-time view of program sequences
Loops can be inserted within a temperature control program at any place
Download and manage programs via Ethernet or USB
Contact Us
262-594-3941