Ovens for Moisture Determination
Moisture determination ovens are used in the thermogravimetric method (loss on drying) in which samples are dried for a specified period of time at constant temperatures. Memmert's precise, uniform temperature capabilities make this unit a perfect fit for building materials, filter materials, and other related processes.
Model Guide
---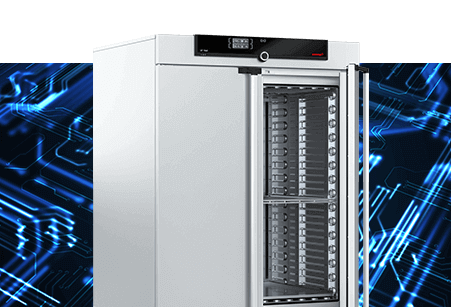 UF
Forced Air Convection Oven
Forced Air Circulation for excellent temperature uniformity via interior rear wall fan motor, variable speed control in 10% increments, or shut off completely.
Single

Display

vs

Twin

Display

Our products are equipped with AtmoCONTROL technology that has programming functions depending on which display you select:

SingleDISPLAY and TwinDISPLAY
Manage and organize data
Save log files in several formats
Monitor up to 32 devices online
Automatic alarms sent to your email when conditions are out of spec

Additional features with TwinDISPLAY
Archive of ramps and program sequences
Real-time view of program sequences
Loops can be inserted within a temperature control program at any place
Download and manage programs via Ethernet or USB
Importance of measuring moisture content
Determining moisture or RH content is important in many industries, including food processing, pharmaceuticals, and construction. The moisture content of a substance can affect its quality, stability, and shelf life, and can also impact its processing and packaging. In some cases, excessive moisture can lead to the growth of microorganisms or the degradation of the material, while too little moisture can cause the material to become brittle or unstable. Similarly, monitoring the RH content of the environment can be important in controlling mold growth, maintaining optimal storage conditions for certain materials, and preventing corrosion or other damage.
Programmable

Lab Equipment

Our products are equipped with AtmoCONTROL technology that has programming functions depending on which display you select:

SingleDISPLAY and TwinDISPLAY
Manage and organize data
Save log files in several formats
Monitor up to 32 devices online
Automatic alarms sent to your email when conditions are out of spec

Additional features with TwinDISPLAY
Archive of ramps and program sequences
Real-time view of program sequences
Loops can be inserted within a temperature control program at any place
Download and manage programs via Ethernet or USB
Contact Us
262-594-3941