Paraffin Ovens - Unpa
Designed for high-precision temperature control of embedding medium like paraffin wax. The range of functions and thermal safety of the paraffin oven are designed specifically for reliable sample preparation in histology, forensics or microbiology.
5 model sizes (32 to 161 liters volume)
Temperature range +30 °C to +80 °C
Model variant:

TwinDISPLAY
High degree of thermal safety through multiple overtemperature protection
No feed or exhaust air, therefore an almost gas-tight chamber
Model Guide
---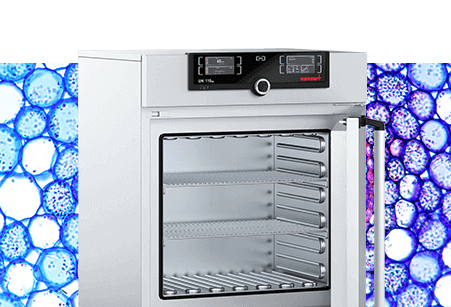 UNpa
Natural Convection Paraffin Oven
Designed for safety, high-precision temperature control of embedding medium like paraffin or wax.
Single

Display

vs

Twin

Display

Our products are equipped with AtmoCONTROL technology that has programming functions depending on which display you select:

SingleDISPLAY and TwinDISPLAY
Manage and organize data
Save log files in several formats
Monitor up to 32 devices online
Automatic alarms sent to your email when conditions are out of spec

Additional features with TwinDISPLAY
Archive of ramps and program sequences
Real-time view of program sequences
Loops can be inserted within a temperature control program at any place
Download and manage programs via Ethernet or USB
Advantages of Memmert paraffin ovens
Memmert paraffin oven UNpa has been the leading choice for sample preparations in scientific and research uses. A range of thermal safety and functions provide reliable sample preparations.
The Memmert Paraffin Oven UNpa comes with:
Easy-to-use operating menu
High-quality corrosion-resistant stainless steel chamber and housing
Intuitive touch, turn & go operation display
Safety controls to protect users and samples
3 year worldwide guaranteed warranty
Programmable

Lab Equipment

Our products are equipped with AtmoCONTROL technology that has programming functions depending on which display you select:

SingleDISPLAY and TwinDISPLAY
Manage and organize data
Save log files in several formats
Monitor up to 32 devices online
Automatic alarms sent to your email when conditions are out of spec

Additional features with TwinDISPLAY
Archive of ramps and program sequences
Real-time view of program sequences
Loops can be inserted within a temperature control program at any place
Download and manage programs via Ethernet or USB
Contact Us
262-594-3941