Universal Ovens - U
Universal ovens are built to satisfy the versatile demands of the food, medical and science industries. Memmert's universal ovens have the precise temperature and humidity controls you need to perform material tests, complex experiments, equipment sterilization and more.
Model Guide
---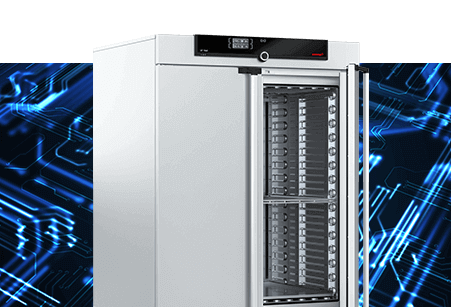 UF
Forced Air Convection Oven
Forced Air Circulation for excellent temperature uniformity via interior rear wall fan motor, variable speed control in 10% increments, or shut off completely.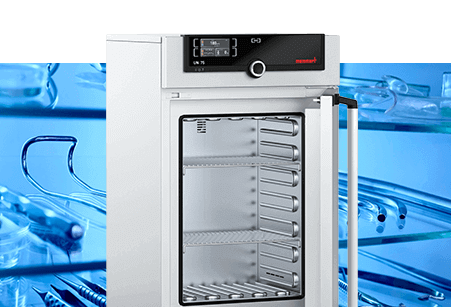 UN
Natural Convection Oven
Memmert's natural convection ovens are designed to reach temperatures up to 300°C efficient for complex processes with sensitive loads, or routine drying and sterilization tasks.
Single

Display

vs

Twin

Display

Our products are equipped with AtmoCONTROL technology that has programming functions depending on which display you select:

SingleDISPLAY and TwinDISPLAY
Manage and organize data
Save log files in several formats
Monitor up to 32 devices online
Automatic alarms sent to your email when conditions are out of spec

Additional features with TwinDISPLAY
Archive of ramps and program sequences
Real-time view of program sequences
Loops can be inserted within a temperature control program at any place
Download and manage programs via Ethernet or USB
Universal Ovens for Food, Medical & Industrial Applications
Stainless Steel Universal Ovens
Memmert's universal ovens offer unparalleled functionality and are made of beautiful stainless steel inside and out. Memmert stainless steel is scratch-resistant, sturdy and hygienic.
AtmoCONTROL Software
Programming is as simple as clicking and dragging. Even the most complex ramp programs are prepared within minutes.
Universal Appliances
The unparalleled precision of Memmert universal heating & drying ovens makes them ideal for nearly any application, including:
Food & Beverage

Machining, Aerospace, Government & Electronics

Medicine
The Range of Applications for a Universal Oven
A universal oven is used in the manufacturing industry for heating, drying, annealing, sterilizing, aging and curing materials. The insulated chamber in a universal oven can be adjusted to specifications for working with:
Electronics: U

niversal ovens offer precise and uniform temperature control for consistent results and reduce the risk of damage to sensitive electronic components. The temperature and time profiles of universal ovens can be carefully programmed to match the specific requirements of the manufacturing or testing process, making universal ovens invaluable tools in the electronics industry.
Textiles: T

he textiles industry relies on universal ovens to provide a controlled and reliable way to apply heat during various stages of textile processing, testing and quality control. Universal ovens help ensure the production of high-quality fabrics and textiles to meet industry standards and customer expectations.
Food: U

niversal ovens are used in the food industry to provide a controlled and consistent heating environment for a wide range of cooking, baking, drying, and testing processes. Their ability to maintain precise temperature control makes them valuable for ensuring food safety, quality, and consistency in food production
Pharmaceuticals:

In the pharmaceutical industry, universal ovens are valuable equipment used for various purposes in research, development, production, and quality control of pharmaceutical products. They help ensure the quality of pharmaceutical products throughout their development, manufacturing, and storage lifecycle.
Memmert's Universal Ovens Protect Your Products
Our universal ovens are made from the highest quality materials and rigorously tested to ensure unbeatable accuracy. No over-drying, no overheating. Just perfection.
Choose between two model variants – SingleDISPLAY and TwinDISPLAY available in 9 model sizes, from 32 to 1060 liters.
Programmable

Lab Equipment

Our products are equipped with AtmoCONTROL technology that has programming functions depending on which display you select:

SingleDISPLAY and TwinDISPLAY
Manage and organize data
Save log files in several formats
Monitor up to 32 devices online
Automatic alarms sent to your email when conditions are out of spec

Additional features with TwinDISPLAY
Archive of ramps and program sequences
Real-time view of program sequences
Loops can be inserted within a temperature control program at any place
Download and manage programs via Ethernet or USB
Contact Us
262-594-3941