Sample Storage Incubators
Sample storage incubators are used in cell biology, pharmacy, and microbiology applications, to test the long-term effects that incubation has on the lab samples. Memmert sample storage incubators are highly precise units with varying temperature limits depending on the model.
Model Guide
---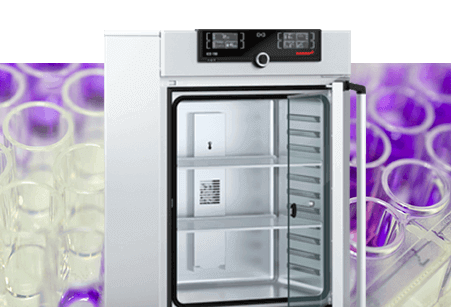 ICO
CO2 Incubator
Active RH control, short recovery times, six sided heating and interior heated glass door provides perfect climate for cell and tissue cultures. Battery back up for data logging and C02 control functional even during a power failure.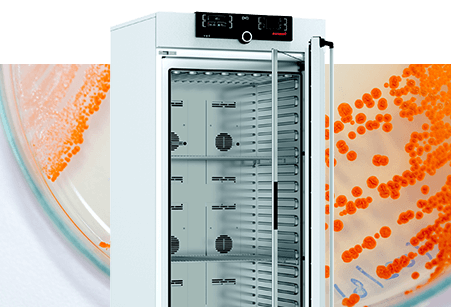 IPPeco
Peltier Cooled Incubator
Memmert's energy-efficient line of Peltier cooled incubators with set point temperature range 0C to +70C ensures sample quality in microbiology, food and beverage industry. This model line is best at bacteria count determination, cultivation studies, stability and aging test and shelf life tests.
Single

Display

vs

Twin

Display

Our products are equipped with AtmoCONTROL technology that has programming functions depending on which display you select:

SingleDISPLAY and TwinDISPLAY
Manage and organize data
Save log files in several formats
Monitor up to 32 devices online
Automatic alarms sent to your email when conditions are out of spec

Additional features with TwinDISPLAY
Archive of ramps and program sequences
Real-time view of program sequences
Loops can be inserted within a temperature control program at any place
Download and manage programs via Ethernet or USB
Sample Storage Incubator Features
Sample storage incubators have temperature, humidity and air controls with specialized fan systems. Sample storage incubators are equipped with alarm systems to alert technicians and researchers of undesired temperature or humidity changes, which prevents sample damage and loss. Sample storage incubators save time and money in research and development processes by minimizing or eliminating the need for re-sampling and re-testing. Sample storage incubators prevent contamination and preserve the integrity of samples.
Programmable

Lab Equipment

Our products are equipped with AtmoCONTROL technology that has programming functions depending on which display you select:

SingleDISPLAY and TwinDISPLAY
Manage and organize data
Save log files in several formats
Monitor up to 32 devices online
Automatic alarms sent to your email when conditions are out of spec

Additional features with TwinDISPLAY
Archive of ramps and program sequences
Real-time view of program sequences
Loops can be inserted within a temperature control program at any place
Download and manage programs via Ethernet or USB
Contact Us
262-594-3941