Constant Climate Chamber - HPPeco
Constant climate chambers create a controlled environment to test the effects of temperature and humidity on products or samples. Memmert constant climate chambers offer high precision & energy efficiency over long testing periods.
Model Guide
---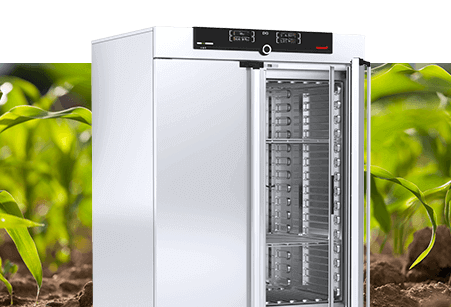 HPPeco
Constant Climate Chamber
Memmert's constant climate chamber is refrigerant-free, low maintenance, energy efficient. Stability testing according to ICH guidelines, perfect for pharma, cosmetics, food and materials stability studies.
Single

Display

vs

Twin

Display

Our products are equipped with AtmoCONTROL technology that has programming functions depending on which display you select:

SingleDISPLAY and TwinDISPLAY
Manage and organize data
Save log files in several formats
Monitor up to 32 devices online
Automatic alarms sent to your email when conditions are out of spec

Additional features with TwinDISPLAY
Archive of ramps and program sequences
Real-time view of program sequences
Loops can be inserted within a temperature control program at any place
Download and manage programs via Ethernet or USB
Constant Climate CHamber (HPPeco) Uses
The HPPeco offers a finely tuned artificial environment for laboratory use. The advanced temperature and humidity controls allow minute changes to the environment for detailed results and guarantee homogeneity throughout the unit. The HPPeco will even maintain the correct humidity during tests that release moisture to maintain accurate results. These controls make it possible to create the perfect environment for cell culture research, seed germination, or insect breeding.
Key Features of Memmert Constant CLimate Chambers
HPPeco constant climate chambers use Peltier technology making them around 90% more energy-efficient than compressor cooler devices, saving you money and helping the environment in one package. The HPPeco is engineered to operate as quietly as possible, making it the perfect environment for labs that are noise sensitive and require minimal background noise. We offer the quietest, environmentally friendly, and space-efficient constant climate chambers in the industry - the perfect set of benefits for any piece of laboratory equipment.
90% more energy efficient

7 model sizes

Temperature range of 0°C to 70°C

Minimal noise

Easy to use interface

Humidity controls
Programmable

Lab Equipment

Our products are equipped with AtmoCONTROL technology that has programming functions depending on which display you select:

SingleDISPLAY and TwinDISPLAY
Manage and organize data
Save log files in several formats
Monitor up to 32 devices online
Automatic alarms sent to your email when conditions are out of spec

Additional features with TwinDISPLAY
Archive of ramps and program sequences
Real-time view of program sequences
Loops can be inserted within a temperature control program at any place
Download and manage programs via Ethernet or USB
Contact Us
262-594-3941