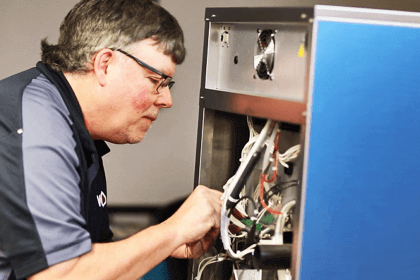 Customize Your Laboratory Equipment with Memmert
---
The jobs that people need to do with their laboratory equipment are as diverse as the individuals themselves. One size might fit most, but it certainly doesn't fit all. That's where customization comes in.
For example, did you know that it's possible to earn over $100,000 a year working with modeling clay? Or that you would need a specially adapted Memmert heating oven to do it? Yes, "in an era of computer-aided design and 3-D printing, one traditional craft remains in automakers' design studios: full-size clay models." Modelers use clay to create and perfect a three-dimensional model of the car. It turns out that there simply isn't a better way to fine-tune the design of the vehicle. Clay is not only extremely malleable but must be kept within a narrow temperature range to be useful. That's where customization comes in. "Clay, an industrial plasticine, is heated and stored in a precise and thermally safe clay oven, producing life-size models."

The team at Nissan London's design studio knows this first-hand. "At room temperature, the modeling clay is solid, so car designers can straighten, mill, grind or chip parts. To first apply the clay to the base frame, it must be softened by heating it up to 60 °C…The all-important, specific temperature conditions for modeling clay are found in a heating oven, the clay oven." In order to hold the plasticine modeling clay at a ready temperature, the standard heating oven had to be customized. It was given a virtually gas-proof interior and the electronics were coated with a protective varnish. It was also designed to shut down before the heat output exceeds 120 °C.
Engineers, lab managers, and research scientists know what their applications require of them, their team, and the laboratory equipment they use. It isn't often that a potential customer calls and says, "I have this process – now what?" Because these professionals are experts at what they do, they know when they need lab equipment with features that are unique to their needs. Sometimes there are tricky processes, strict requirements, or just very specific requests that require consultation between the end-user and the manufacturer. Even in those cases, the individual on the quest to find the perfect piece of laboratory equipment knows what ballpark to be in when they come to us for help.
The Research & Development team, in partnership with the expertise of the Customization Department at Memmert, has been using their expertise to come up with unique solutions to special inquiries for decades. They've heard hundreds of questions, but by no means have they heard them all, nor do they expect the questions to slow down in the future. The Customization Department is one of the busiest departments at Memmert and continues to develop more and more elegant solutions to the unique problems of their customers.
What customizations do potential customers ask for? Memmert offers standardized customizations for commonly requested options or accessories, such as entry ports, glass doors, and certifications. There are also some more interesting requests such as special entry ports, hardware and electronic modifications, special sealings, and custom-made solutions for heavy-duty loads. And, the applications are as varied as the customized equipment. For example, one customer might want inert gas inlets added to a cooled-vacuum oven for aircraft simulation. Another customer will need pass-thru ovens with flush fit kits to be built into cleanroom walls. Yet another requires daylight simulation with programmable light modules for plants or housing animals. And we've already talked about clay ovens for holding plasticine modeling clay at ready temperature.
As the Memmert experts here in the USA, our role is to be a careful listener and thoughtful inquirer. We need to know exactly what the customer needs – and then how to clearly communicate that need to Memmert in the most effective way. It requires diligence, patience, and pleasant persistence. The planning leading up to the procurement of custom units – with language barriers, time zone differences, and budgetary discussions – can take a long time. Once ordered, the laboratory equipment must be built which means that customized Memmert units have an 8-20 week lead time.
If your interest is piqued, or you have an application that has been stumping your procurement team, we invite you to give us a call to discuss it. We'll ask you some questions, such as… What is the process temperature and do you need humidity or vacuum? What parts or product is going inside? Are the loads small or large? What is key to your process success? What will make your life easier? Keep in mind that custom laboratory equipment is not resalable so any units that we work to design with the end-customer and manufacturer are non-cancellable, non-refundable and non-returnable.
Learn more about case studies that may be similar to yours on Memmert's AtmoSAFE platform https://www.atmosafe.net.