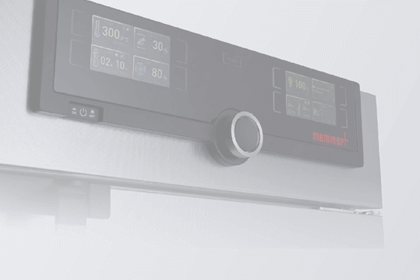 5 Good Reasons to Buy a Memmert
---
1 – intuitive operation: touch, turn & go!
Fine glass and stainless steel. The elegant display has characterized Memmert lab ovens for many years now. Since the newest generation of appliances, our products have become intelligent and interactive. Meet the Memmert ControlCOCKPIT!
It has never been easier to operate a lab oven
All adjustable parameters such as temperature (either Celsius or Fahrenheit), relative humidity, fan speed or exhaust air flap position can be set up in three quick steps without getting lost in a complicated menu. During operation all status messages, the current status of heating, ventilation and air flap position as well as time and alarm signals are visible simultaneously.
Intuitive operation of a Memmert oven or incubator
ControlCOCKPIT with touch function available in two model variants: SingleDISPLAY and TwinDISPLAY.
Touch, turn & go. Quick setup in three steps. Never before has a temperature control appliance been easier to operate.
Models with TwinDISPLAY additionally feature setting of device specific parameters and temperature monitoring, graphical display of the program sequence and activation of the optional interior lighting in the right display.
Versatile menu functions such as language settings, time zones and daylight saving time as well as the choice between Celsius and Fahrenheit.
2 – stainless steel: precious material offering added value in the lab
For many years, structured stainless steel has been the unmistakable feature of Memmert ovens, incubators and climate chambers in the laboratory. Functional design in its most elegant form: scratch-resistant, hygienic, robust and durable.
Wherever Memmert ovens and heating baths are used, the superiority of high-quality stainless steel is immediately evident compared to coated sheet steel which can corrode very quickly when in constant use.
For the outer housing of all Memmert appliances, structured stainless steel is used (rear walls are made of galvanized steel sheets).
Stainless steel of class W-St. 1.4301 (ASTM 304) is used for:
The inner chamber
Sliding shelves, housing
Interior basin
Accessories for every heating bath
Since aggressive substances are frequently used in the vacuum drying oven, the inner chamber and thermoshelves are made of stainless-steel W-St. 1.4404 (ASTM 316L), and the tubing is made of stainless steel W-St. 1.4571 (ASTM 316i).
Inner chamber (CO2 Incubator, optionally electropolished) and sliding shelves of a Memmert heating oven are made of 100% stainless steel.
3 – Communication: interfaces into the wide world
We think that the programming of a lab oven should be possible from anywhere in the world without problems. For this reason, Memmert devices feature state-of-the-art communication interfaces.


USB port on the ControlCOCKPIT plus ethernet connection
An ethernet connection for reading out logs is standard for all new generation Memmert lab -ovens.
For appliances with TwinDISPLAY, the ethernet connection can be used for:
Uploading profiles from the software AtmoCONTROL
Profile setup
Online logging
Appliances with TwinDISPLAY offer a USB port on the ControlCOCKPIT for:
The direct upload of programs
Reading out logs
Protecting appliances with individual user-ID function
The individual allocation of IP addresses is possible directly via ControlCOCKPIT.
Interface for programming and log function
remote access for reading out logs (SingleDISPLAY) and uploading programs (TwinDISPLAY)
all appliances feature a data logger (storage capacity at least 10 years)
all appliances with Ethernet interface
USB port on appliances with TwinDISPLAY
individual allocation of IP addresses possible directly via ControlCOCKPIT
4 – Safety: of users and chamber loads
All Memmert lab ovens feature an electronic temperature monitoring system, a mechanical temperature limiter acc. to DIN 12880 and an integrated auto-diagnostic system with optical and acoustic alarm as a standard.
Even more safety in TwinDISPLAY models
TwinDISPLAY appliances are equipped with an overtemperature monitor as well as two high-grade platinum temperature sensors Pt100 for mutual monitoring and operation transfer at same working temperature in case of an error. Particularly in ramp operation, the integrated temperature monitoring system AutoSAFETY can be activated to automatically follow the set temperature with a freely selectable tolerance. Individual MIN-/MAX-values can be set for over/undertemperature as well as for all other parameters like relative humidity, CO2, O2 and pressure (vacuum).
With the AtmoCONTROL software, alarm notifications can be sent out to an e-mail address. The optional MobileALERT makes it possible to send the alarm notifications by SMS to a mobile phone.
5 – Service: whenever, wherever
The technical service of Memmert has a demanding list of tasks. Supply of spare parts, maintenance, repair and commissioning, IQ/OQ/PQ qualification, customer training and software instruction. It all comes together with global network of service partners that ensures all user queries of Memmert appliances are addressed and fulfilled.
Together with a worldwide network of service partners, we ensure that users of Memmert appliances are never left alone with their questions.
If you have questions concerning operation, ordering spare parts, repairs, or service, you can reach our technical service team by telephone, by e-mail or via our contact form. Find your contact partner here.