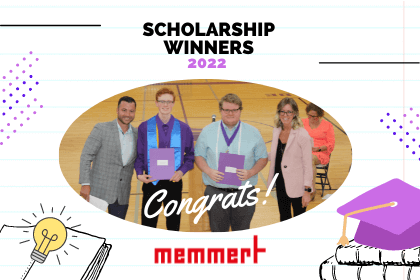 2022 Memmert USA's Scholarship Winners
---
Here at Memmert USA, LLC we love to give back. Generosity is ingrained in who we are, and at the root of our company culture. Memmert USA's charitable donations to numerous community events and organizations demonstrate our gratitude and support to the communities that helped build us. Small town location, national, global, as big as we may grow, we never forget where we came from.

Memmert USA, LLC offers annual scholarships to graduates of Palmyra-Eagle High School. It's our way of paying it forward and setting the stage for graduates to achieve their dreams.

The 2022 recipients from Palmyra-Eagle High School are Matthew Hunkins and Eric Neuman. Palmyra-Eagle High School is located in Palmyra, Wisconsin. Palmyra-Eagle provides a quality Early Childhood through 12th grade education within 3 facilities. The entire district is strongly supported by local businesses and community organizations that take pride in their hometown school.