TTC256 Memmert Environmental Test Chambers
Overview
Memmert environmental test chambers guarantee the perfect atmosphere for climate and temperature tests.

TTC 256 Memmert environmental chambers guarantee the perfect atmosphere for climate and temperature tests. Let us help you build the perfect environmental test chamber.
Features
Stainless Steel

Scratch resistant, hygienic and durable.

2 Year Warranty

A limited 2 year warranty is included with the option to purchase an extra year.

Temperature & Humidity
Control technology
Safety, Standards, & Data
Interior & Exterior
Accessories
Temperature & Humidity
Temperature Specs:
Working temperature range without humidity:




-42°C up to 190°C

Temperature distribution (spatial):


/- 0.5 up to 2K

Temperature:
2 Pt100 sensors Class A in 4-wire-circuit, mutually monitoring and taking over the performance at the same temperature value
Display:


Resolution of display for setpoint values 0.1°C up to 99.9°C, 0.5°C from 100°C and for actual values 0.1°C (LED)
Humidity Specs:
Dehumidification:
2 x 10 l tanks as condensate collector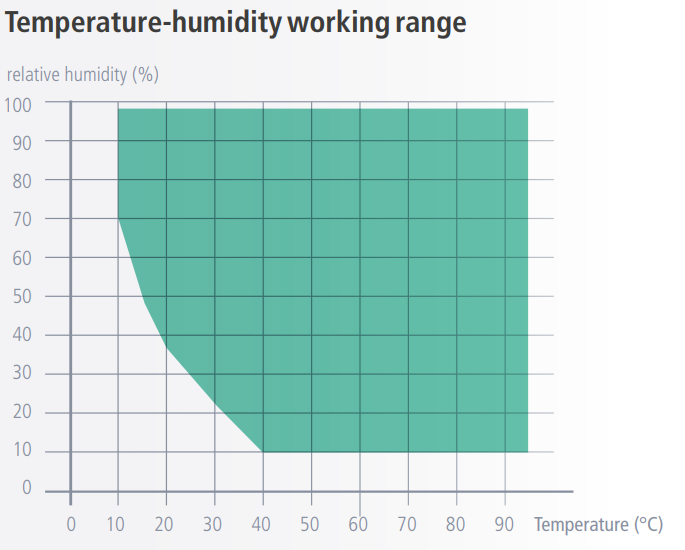 Control technology
Control Technology:
Controller:


Electronic microprocessor temperature controller with auto-diagnostic system

Controller:
Digital display of all set parameters, such as temperature, weekdays, time, fan speed, air flap position, programme status and set-up values – language to be chosen via set-up
Timer:


Integrated timer for tempering profiles of up to 40 ramps each, each segment adjustable from 1 min. to 999 hrs.

Calibration:
Three freely selectable temperature values

Safety & Standards
Safety:
Temperature control:


mechanical temperature limiter TB, protection class 1 according to DIN 12880 to switch off the heating approx. 10°C above nominal temperature

Temperature control:
over- and under temperature monitor TWW, protection class 3.3 or adjustable temperature limiter TWB, protection class 2, adjustable at the controller


AutoSAFETY:




additionally integrated over- and under temperature protection "ASF", automatically following the setpoint value at a preset tolerance range, alarm in case of over- or under temperature, heating is switched off in case of overtemperature, the compressor in case of under temperature

Autodiagnostic system:


integral fault diagnostics for temperature and humidity control

Alarm:
with visual and acoustic alarm in case of over-/under temperature and under humidity, open door and empty water tank
Additional data
Electrical data
230 Volts
(+/- 10%)
50 Hz / approx. 32 amps
Certifications


Interior & Exterior
Stainless Steel Interior
Volume

:


256 l

Dimensions W x H x D in mm
w(A)

x h

(B)

x d

(C):

640

x

670

x

597 mm




Max. number of internals:


6
Max. loading per internal:


25 kgs
Textured Stainless Steel Casing
Dimensions:
w x h x d :

898

x

1730

x

1100 mm

Housing:


rear zinc-plated steel

Installation:


on lockable castors
Stainless Steel
For many years exterior textured stainless steel has been the unmistakable feature of Memmert ovens, incubators, and climate chambers in laboratory and light-industrial settings. Memmert equipment exemplifies functional design in its most elegant and hygienic form, while still being scratch resistant, robust and durable.
Stainless steel is the ideal material for temperature control chambers and heating baths. It is particularly corrosion-resistant, hygienic, robust and recyclable without question.
Wherever Memmert ovens and heating baths are used, the superiority of high-quality stainless steel is undeniable in comparison to others that utilize coated sheet steel, which can corrode very quickly when in constant use.
For the outer housing of all Memmert appliances, textured stainless steel is used (rear walls are zinc-plated sheets). The inner chamber, sliding shelves/grids, housing, interior basin and accessories for every heating bath, stainless steel of class W-St. 1.4301 (ASTM 304) is used. Since aggressive substances are frequently used in the vacuum drying oven, the inner chamber and thermoshelves are made of stainless-steel W-St. 1.4404 (ASTM 316L), and the tubing is made of stainless-steel W-St. 1.4571 (ASTM 316i).
Accessories
| Model size | 256 |
| --- | --- |
| Stainless steel grid, electropolished | E20591 |
| External control and logging package consisting of mini-Notebook and software "Celsius", pre-configurated, and lateral swinging arm | B04410 |
| USB connection cable for computer interface | E03643 |
| Temperature profile write/read unit for programming via PC, for writing to and reading from the chip card, up to 40 ramps | E05284 |
| Additional chip card, blank, formatted (32 kB MEMoryCard XL for a maximum of 40 ramps) | E04004 |
| Oven-linked authorisation card (User-ID-Card) prevents undesired manipulation by unauthorised third parties. When reordering please specify serial number | E04159 |
| Software conforming to FDA "Celsius FDA Edition". Meets the requirements for the use of electronically stored data sets and electronic signatures as laid down in Regulation 21 CFR Part 11 of the US Food and Drug Administration (FDA). | E05019 |
| Integration of additional units (up to max.15 units) into an already existent FDA-software licence (E05019) | FDAQ4 |
| External measuring instrument with sensors for daylight and UV-light, with additional measuring head for temperature and humidity. Product information on demand (models HCP and CTC) | B04714 |
| DAkkS calibration for one (freely selectable) temperature and humidity value according to method C (DKD-R 5-7) (only CTC) | E48847 |
| DAkkS calibration for further temperature and humidity values according to method C (DKD-R 5-7) (only CTC) | E48848 |
| DAkkS calibration for one free-selectable temperature value according to method C (DKD-R 5-7) | E39696 |
| DAkkS calibration for further temperature values according to method C (DKD-R 5-7) | E39697 |
| IQ check list with works test data for chamber as support for validation by customer | D00103 |
| OQ check list with device-specific works test data for one free-selectable temperature value, incl. temperature distribution survey at Memmert for 27 measuring points to DIN 12880:2007-05 as support for validation by customer | D00104 |
| OQ check list with works test data for one free-selectable temperature value incl. temperature distribution survey for 27 measuring points to DIN 12880:2007-05 as support for validation by customer (only CTC) | D00144 |
| On-site IQ/OQ for a freely selectable temperature value, including temperature distribution survey for 27 measuring points to DIN 12880: 2007-05 (excluding travel costs, not subject to discount, GER, AT, FR only) (only TTC) | DLQ100 |
| Extension of DLQ100 by an additional freely selectable temperature value (not subject to discount) (only TTC) | DLQ100A |
| On-site IQ/OQ for a freely selectable temperature and humidity value, including temperature distribution survey for 27 measuring points to DIN 12880: 2007-05 (excluding travel costs, not subject to discount, GER, AT, FR only) (only CTC) | DLQ101 |
| Extension of DLQ101 by an additional freely selectable temperature and humidity value (not subject to discount) (only CTC) | DLQ101A |
| Individual on-site Performance Qualification (PQ) | DLQ200 |
| Maintenance "Basic" - carrying out and documentation according to Memmert maintenance plan (excluding travel costs, not subject to discount, GER, AT, FR only) | S00400 |
| Maintenance "Medium" - carrying out and documentation according to Memmert maintenance plan (excluding travel costs, not subject to discount, GER, AT, FR only) | S00401 |
| Maintenance "Premium" - carrying out and documentation according to Memmert maintenance plan (excluding travel costs, not subject to discount, GER, AT, FR only) | S00402 |
| Calibration of one freely selectable temperature value (excluding travel costs, not subject to discount, GER, AT, FR only) | S00205 |
| Calibration of an additional temperature value (not subject to discount) | S00215 |
| Calibration of one freely selectable temperature and humidity value (excluding travel costs, not subject to discount, GER, AT, FR only) (only CTC) | S00207 |
| Calibration of an additional temperature and humidity value (not subject to discount) (only CTC) | S00216 |
VERSATILE PRODUCTS TO SERVE DEMANDING APPLICATIONS
Medical
Industrial
Electronics
Aerospace
Education
Life Science
Pharmaceuticals
Food & Beverage